Yammy xox

General

Gender

Female

Birthdate

June 22nd, 1994

YouTube

Channel
Date Joined

Apr 29th, 2011

Status

Active

Social Media

Twitter
Other

Instagram - yammy_xox
Yasmine (also known as Yammy or Miss Yammy), is a British gamer who mainly uploads to her gaming channel yammy xox, she usually plays games such as Minecraft, roblox, and the Sims, but will play other random games from time to time.
Yammy has appeared in various videos with Stacy, and is known for winning the first season of UHShe.
Collabs with Stacy
Edit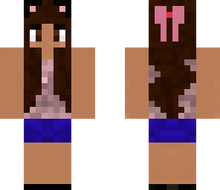 Main Article: UHShe
UHShe is an all female Ultra Hardcore series created by StacyPlays that premiered on June 28th, 2015.This is the first series to feature both Yammy and Stacy
Throughout the series, Yammy had a consistent playthrough, managing to avoid any PVP fights, until the very end where she battled (and won) against Shubble, making her the Series 1 winner.
Yammy was teamed with LDShadowLady in the Halloween themed second season, the two didn't have a great game, with Yammy being killed by a Witch and finishing in 17th place (Team Rank 9th).
Yammy also participated in seasons three and four of Uhshe.
Hide 'N' Seek
Edit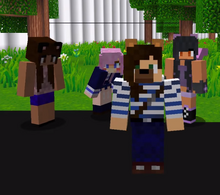 Yammy joined Stacy, Lizzie and Aphmau in a mini game where you had to hide from the seeker (who was a Minion from the film Despicable Me), the seeker was much faster and could turn the hiders into seekers once caught.
If the hiders weren't caught in the given time, they would win.
Lucky Blocks Walls War
Edit
Another mini game to feature Yammy was 'Lucky Blocks Walls War', also featuring Lizzie, Stacy and Joey. The players were given a stack of lucky blocks which could either be useful for the player, or harmful. The last surviving player wins.
UHShe Stats
Edit
Elimination History 
Edit
| Season | Team | Status | Episode(s) | Individual Kill(s) | Team Kill(s) | Individual Rank | Team Rank |
| --- | --- | --- | --- | --- | --- | --- | --- |
| | | | | | | | |
| S.1 | - | Winner | 8 | 1 | - | 1st | - |
| S.2 | YammaLlama DingDong | Killed by a Witch using magic | 7 | 0 | 0 | 17th | 9th |
| S.3 | - | Suffocated in a wall (Border) | 4 | 0 | - | 5th | - |
| S.4 | - | Slain by BeaTheCraftian | 3 | 0 | - | 15th | - |
Yammy's channels
Edit
Yammy has two Youtube channels, the first being her gaming channel yammy xox which is her most popular with over 800,000 subscribers. She primarily plays Minecraft, roblox, and the Sims, but will play other games.
Her second channel, Miss Yammy has over 45,000 subscribers and is more centered around blogging and Fashion Hauls.
References
Edit
Ad blocker interference detected!
Wikia is a free-to-use site that makes money from advertising. We have a modified experience for viewers using ad blockers

Wikia is not accessible if you've made further modifications. Remove the custom ad blocker rule(s) and the page will load as expected.