Squicken Beach

Episode 16

Information

Post Date

May 31, 2014

Duration

23:41

Episode Guide
"
Squicken Beach"
is the sixteenth episode of 
Dogcraft
, and it was uploaded on May 31st, 2014.
Overview
Edit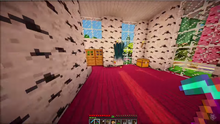 The episode begins with Stacy on the balcony, talking about how her sheep 'Pillow' escaped it's pen and that she must trap him in the episode, Stacy also mentions her Squicken 'Squirt' is missing and that he also needs to be found.
Stacy then proceeds to the 'Dalmatian Plantation' and names her new dog 'Scamp'. After Stacy lures Pillow back into his pen, she places some materials in her inventory and goes on to make a small Squicken sanctuary next to her house called 'Squicken Beach'.
Stacy then spawns in several Squickens in the beach and lures 'Lizzie' into her home, so it will be easier to place her in the beach. The following morning, Stacy goes back to the beach to find only two baby Squickens are left (unknown to Stacy that baby Squickens cant swim), suddenly one of the two Squickens drown making Stacy seal in the last remaining Squicken in fences. Stacy names the Squicken 'Harry Potter' and gives the dead Squickens a place in the pet cemetary.
Stacy then spawns in several other Squickens and ends the episode after giving Page, Molly and Wink some food and then going to bed.
This episode marks the first appearance of 'Harry Potter'.
'Harry Potter' was the given name to the Squicken because he was "the Squicken who lived".
The dead Squickens have a grave placed next to 'Omelet'.
Ad blocker interference detected!
Wikia is a free-to-use site that makes money from advertising. We have a modified experience for viewers using ad blockers

Wikia is not accessible if you've made further modifications. Remove the custom ad blocker rule(s) and the page will load as expected.