Polly "Persephone" Hinojosa

Characteristics

Race

Dog (Beagle mix)

Gender

Female

Personal Status

Status

Alive

Relatives

Stacy's Dad (Owner) Stacy Hinojosa (Owner) Page (Sister) Molly (Sister) Milquetoast (Brother) Pipsqueak (Brother)

Media

First Appearance

Episode 151 "Hello Polly" (Dogcraft)
Polly is often refered to as "Stacy's Third dog", she used to live with Stacy's dad but are currently thinking about getting joint custody of Polly due to the two living closer together.
Overview
Edit
Polly's first appearance was during the 'Vlogmas' event of 2014 on the Stacyvlogs channel.
Polly In Dogcraft
Edit
Main Article: Dogcraft
Polly was added to Dogcraft in Episode 151 "Hello Polly", where Stacy discovered Polly waiting at the front door of her house.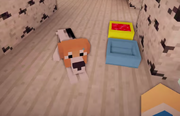 Stacy is sometimes confused between Polly and Molly.
Stacy originally thought that Polly would want to attack Milquetoast, but it turns out Polly gets along the best with him. 
Stacy considers Polly's middle name to be Persephone. [1]
Polly seems very interested in Pipsqueak
References
Edit