Noah

Characteristics

Race

Wolf

Gender

Male

Professional Status

Occupation(s)

Lifeguard, Sniffer

Personal Status

Status

Alive

Relatives

No known relatives

Media

First Appearance

"Double the Dogs" (EP.8)
Noah is one of Stacy's dogs on Dogcraft. He is a member of the wolf pack and he loves water.  
Noah is a very silly, brave, and underappreciated wolf. After taking part in Extreme Creeper Training, Noah came out in first place, and beat all the other members of the pack. Noah loves water, is known as the fisher dog, which is a talent exclusive to him, which allows him to catch fish while in water. He also has his own underwater-themed suite in the Doggy Hotel, and Noah was made to be the lifeguard of the Rufftop Pool. 
Noah was among the four original dogs that Stacy tamed, along with Tucker, Basil, and Everest. 
Camping TripEdit
Noah went along with Stacy, Everest, and Wink on a birthday Camping Trip. They went far off into the wilderness, and set up camp by a bunch of wild deer, which Noah seemed to take a liking to. After Stacy began telling the wolves a ghost story, they were interupted and attacked by a wild bear. The dogs quickly took down the bear, but Everest was wounded in the process. Stacy then quickly took the wolves home for safety.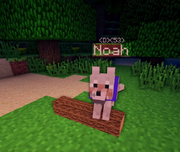 Noah's Bark is a reference to the biblical Noah's Ark. 
He was the first wolf to recieve a Radar Collar.