Mousie

General

Gender

Female

YouTube

Channel
Date Joined

September 30th, 2013

Status

Active

Social Media

Twitter
Facebook
Other
Mousie (also known as 'MousieMouse') is an American gamer, voice actor and writer. Known for her participation in the popular UHShe series, founded by Stacy. It was revealed on the Yogscast Christmas Livestreams that her first name is Hannah.
Mousie's Channel
Edit
Mousie's gaming channel currently has over 100,000 subscribers, and primarily consists of Minecraft series, though Mousie occasionally plays Indie games and games she finds "amusing".
Mousie's series include:
Main Article: UHShe
UHShe is an all female Ultra Hardcore series created by StacyPlays that premiered on June 28th, 2015.
Mousie has appeared in all three seasons of UHShe so far, during Season 1 she famously created a 'Boogie Disco' just outside of 0,0 (center of the map). The 'Boogie' theme continued in Season 2, where Mousie and teammate MKTheWorst built a 'Boogie Dance floor' from orange stained glass.
UHShe Stats
Edit
UHShe Elimination History
Edit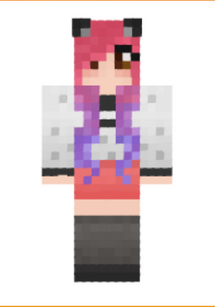 | Season | Team | Status | Episode(s) | Individual Kill(s) | Team Kill(s) | Individual Rank | Team Rank |
| --- | --- | --- | --- | --- | --- | --- | --- |
| | | | | | | | |
| S.1 | - | Slain by Aureylian | 6 | 0 | - | 11th | - |
| S.2 | Boogie | Slain by Aureylian -Applesauce | 8 | 0 | 0 | 15th | 8th |
| S.3 | - | Suffocated in a wall (Border) | 4 | 0 | - | 8th | - |
| S.4 | - | Slain by SalemsLady | 3 | 0 | - | 13th | - |
| S.5 | Party In The USA | Blown up by Creeper | 6 | 0 | 0 | 14th | 8th |
| S.6 | - | Slain by Pip3r Games | 6 | 0 | - | 12th | - |
| S.7 | - | Slain by SalemsLady | 7 | 0 | - | 11th | - |
| S.8 | Beetlejuice | Slain by Vindicator | 5 | 0 | 0 | 15th | 8th |
References
Edit