Mistletoe

Characteristics

Race

Cat

Gender

Female

Personal Status

Status

Alive

Relatives

Foster Mother: Milquetoast

Foster Father: Dog the Cat
Foster Brother: Stampy


Media

First Appearance

Merry Dogmas (EP.76)
Mistletoe is Milquetoast and Dog's adopted daughter. Mistletoe looks much like her adopted parent, Milquetoast, due to her siamese coloring.
Dogcraft
Edit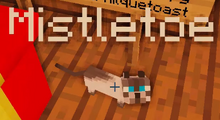 Although Mistletoe's origin is unknown, she was a Christmas gift to Stacy from Stampy and Milquetoast. Mistletoe was a baby for a short amount of time, growing up in the same episode she was introduced.
The Christmas Cabin
Edit
Mistletoe lives with Noel in the Christmas cabin, and was given to Stacy for Christmas, from Stampy and Milquetoast.
Christmas 2015
Edit
After returning to the Christmas Cabin a year later, where she was disappointed not to find either Noel or Mistletoe. Noel left a note to Stacy saying that he and Mistletoe were away at the North Pole visiting relatives.
When Stacy returned the next day to bring some of her dogs to the Cabin, Noel and Mistletoe were back, and the Cabin was newly decorated.
Stacy returned to the winter cabin to recruit Mistletoe as a part of the Cat Army with the intent to battle against the creepers during the second creeper war. 
Most viewers think that Stacy doesn't take care about Mistletoe, but in her Valentine's Day episode she clearly states that she has not forgotten about her or Noel.
It is unlikely that Dog knows about Mistletoe, since he was not at the Christmas Cabin to see her.
There was some confusion about Mistletoe being Stampy and Milquetoast's daughter.
Mistletoe was the first pet to be a Christmas present.