Hungercraft (Season 2)

Episode 1 thumbnail

Information

Episodes

86 (as of September 19, 2016)

Premiere

November 1st, 2015

Finale

-
Hungercraft (Season 2)
, fully titled 
Hunger Games Minecraft
, a Minecraft survival series featuring 
Stacy
 and 
Joey
, the series is a sequel to Stacy's first ever series,
Hungercraft
.
The series was uploaded two years after the original Hungercraft, and is uploaded only to Joey's channel, but features Stacy's perspective, which Season One didn't feature.
Overview
Edit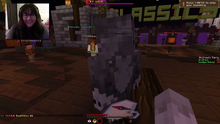 Hungercraft Season 2 is a Minecraft version of the Hunger Games. The goal of the map is to be the last person alive. Each person starts off with no items, but can choose to run to the nearby Cornucopia, which is surrounded by chests. 
Both Joey and Stacy have the same strategy goals as they did in the first Season, and continue to say the "I died" quote, which has become a popular trademark from the two. The two are still not very good at PVP (Player vs Player), so are yet to win a match.
From episode 1-2, the series was played on Mineplex instead of MCSG. However, from episode 3-present, Joey and Stacy transferred to the now MCSG, now known as MCGamer. 
Episode List
Edit
| # | Thumbnail | Title | Airdate |
| --- | --- | --- | --- |
| 1 | | We're Finally Back! | November 1st, 2015 |
| 2 | | Stacy Almost Passed Out?! | November 3rd, 2015 |
| 3 | | We Finally Killed Someone?! | November 10th, 2015 |
| 4 | | I Exploded A Living Piñata!? | November 14th, 2015 |
| 5 | | Bathing In Lava!? | November 19th, 2015 |
| 6 | | I Hate Parkour So Much! | November 25th, 2015 |
| 7 | | I Died In 2 Seconds?! | December 3rd, 2015 |
| 8 | | The Chicken Killer Squad! | December 6th, 2015 |
| 9 | | Stacy Left Me To Die?! | December 17th, 2015 |
| 10 | | Quickest Death Ever?! | December 21st, 2015 |
| 11 | | Stacy's Death Cry! | December 25th, 2015 |
| 12 | | So Close To Winning! | December 28th, 2015 |
| 13 | | Murder In The Showers?! | January 1st, 2015 |
| 14 | | My Guardian Angel Stacy! | January 4th, 2016 |
| 15 | | We Made It To Deathmatch?! | January 8th, 2016 |
| 16 | | Stacy's First Kill! | January 10th, 2016 |
| 17 | | We Have Bodyguards! | January 14th, 2016 |
| 18 | | Falling Into The Void | January 16th, 2016 |
| 19 | | It's So Cold!! | January 19th, 2016 |
| 20 | | Joey vs Stacy Deathmatch! | January 23rd, 2016 |
| 21 | | I Have An Imposter?! | January 27th, 2016 |
| 22 | | Killed By The Same Person.. | January 31st, 2016 |
| 23 | | Too Much Armour!? | February 1st, 2016 |
| 24 | | Stacy Just Wont Die?! | February 5th, 2016 |
| 25 | | The Squad! | February 14th, 2016 |
| 26 | | We're Lost In A New Map! | February 16th, 2016 |
| 27 | | So Many Diamonds?! | February 18th, 2016 |
| 28 | | Stacy Got Tricked?! | February 22nd, 2016 |
| 29 | | Drowning In An Aquarium?! | February 24th, 2016 |
| 30 | | Hiding In The Sewers! | February 27th, 2016 |
| 31 | | Climbing A Giant Building?! | March 2nd, 2016 |
| 32 | | Playing On Our Main Accounts?! | March 7th, 2016 |
| 33 | | Stacy Got Struck My Lightning! | March 11th, 2016 |
| 34 | | | |
| 35 | | Ender Pearl Escape! | March 17th, 2016 |
| 35 | | Angriest Hunger Games Ever! | March 19th, 2016 |
| 36 | | The Mystery Iron Door! | March 22nd, 2016 |
| 37 | | Fighting In Outer Space?! | March 28th, 2016 |
| 39 | | We're In The Wizard Of Oz?! | March 30th, 2016 |
| 40 | | Mine Explorers!! | April 3rd, 2016 |
| 41 | | Please Stop Dying! | April 5th, 2016 |
| 42 | | Playing With Joey 2.0!? | April 7th, 2016 |
| 43 | | Escaping Death?! | April 9th, 2016 |
| 44 | | We're Trapped! | April 11th, 2016 |
| 45 | | Diamonds Galore! | April 13th, 2016 |
| 46 | | Ghost Joey And Stacy?! | April 26th, 2016 |
Statistics
Edit
Episode 1-50
Episode
Round
Map
Ranking
Joey
Stacy
1
1
Shattered Kingdom
10th
8th
2
Shattered Kingdom
7th
6th
2
1
Riverton Castle
10th
9th
2
Shattered Kingdom
9th
8th
3
Kokoshi Islands
10th
12th
4
Fallout
3rdD
2ndD
3
1
Survival Games 4
7th
8th
2
Mausoleum - Halloween 2015
4th
15th
4
1
Lobby Games
18th
16th
2
Zone 85 Revamped
4th
5th
3
Mausoleum - Halloween 2015
3rd
2nd
5
1
Demon's Island
15th
16th
2
Breeze Island 2
22nd
24th
3
Holiday Resort
6th
5th
4
Demon's Island
3rd
12th
6
1
Holiday Resort
12th
9th
2
Chernobyl
4th
3rd
7
1
Par 72
2nd
4th
2
Turbelence
22nd
11th
8
1
Survival Games 3
12th
11th
2
Bayside
5th
6th
3
Mortal Skies
17thK
10th
9
1
Holiday Resort 2
3rd
4th
2
Holiday Resort
19th
10th
3
Survival Games 3
16th
14th
10
1
Origins
18th
14th
2
Fortune Island
4th
7th
11
1
Adrenaline
17th
11th
2
Par 72 - Holiday Edition
10th
9th
3
Autogrill
3rd
11th
12
1
Inertia
7th
5th
2
Lobby Games
3rd
5th
13
1
Solar Frost
8th
5th
2
Par 72
7th
5th
3
Avaricia
5th
6th
14
1
Elysia
3rd
7th
15
1
Drybone Valley
2nd
3rd
16
1
Survival Games Highway
9th
8th
2
Pompeii
10th
3rd
17
1
Chernobyl
3rd
4th
18
1
Adrenaline
11th
6th
2
Holiday Resort 2
7th
10th
3
Drybone Valley
7th
3rd
19
1
WinterHaven
5th
8th
2
Lobby Games
17th
4th
20
1
Fortune Island
2nd
1st
21
1
Springfield
4th
6th
22
2
Adrenaline
4th
5th
23
1
Demon's Breeze
2nd
12th
2
Estyr
6th
7th
24
1
Holiday Resort 2
U
19th
2
Breeze Island
3rd
11th
3
Holiday Resort 2
8th
2nd
25
1
Holiday Resort 2
3rd
5th
26
1
Section Six
5th
3rd
2
Zone 85 Revamped
11th
9th
27
1
Unknown Map
5th
12th
2
Adrenaline
4th
5th
28
1
Green Grass
18th
17th
2
Inertia
20th
3rd
3
Zone 85 Revamped
13th
17th
4
Green Grass
8th
10th
29
1
Treacherous Heights 2
8th
3rd
2
Teweran Survival Games
10th
8th
3
Bayside
8th
14th
30
1
Skyward Crest
10th
4th
2
Turbulence
7th
9th
3
Survival Games 4
2nd
5th
31
1
Survival Games 2
8th
7th
32
1
Turbulence
22nd
17th
2
Valleyside University
12th
U
3
Survival Games 3
7th
6th
33
1
Breeze Island
1st
2nd
34
1
Pompeii
5th
56h
2
WinterHaven
8th
6th
35
1
Zone 85 Revamped
7th
10th
2
Breeze Island
3rd
4th
36
1
Par 72
11th
12th
2
Springfield
1st
16th
37
1
Turbulence
15th
8th
2
Turbulence
8th
3rd
3
Hamlyn
12th
10th
38
1
Icarus Fallen
3rd
2nd
2
Icarus Fallen
3rd
2nd
39
1
Valleyside University
4th
3rd
2
Oz
3rd
4th
40
1
Survival Games Highway
18th
16th
2
Zone 85 Revamped
3rd
2nd
41
1
Survival Games 4
11th
12th
2
Survival Games 4
14th
13th
3
Mortal Skies
20th
14th
4
Par 72
10th
9th
42
1
Section Six
8th
2nd
43
1
Chernobyl
15th
12th
2
Oz
5th
6th
44
1
Avaricia
7th
6th
2
Zone 85 Revamped
4th
3rd
45
1
Teweran Survival Games
1st
2nd
46
1
Valleyside University
21st
6th
2
Survival Games Highway
5th
4th
47
1
Drybone Valley
1st
3rd
48
1
Section Six
8th
5th
2
Demon's Island
1st
2nd
49
1
Par 72
16th
4th
2
Holiday Resort
15th
4th
50
1
Breeze Island
5th
3rd
2
Autogrill
3rd
4th
Episode 51-100
Episode
Round
Map
Ranking
Joey
Stacy
51
1
Springfield
7th
9th
2
WinterHaven
6th
5th
52
1
Skyward Crest
2nd
3rd
2
Zone 85 Revamped
13th
11th
3
Par 72
13th
12th
4
Holiday Resort 2
11th
5th
53
1
Par 72
8th
7th
2
Survival Games 4
16th
3rd
54
1
Survival Games 2
1st
2nd
2
Holiday Resort
5th
20th
55
1
Turbulence
U
13th
2
Adrenaline
19th
20th
3
Hamlyn
2nd
22nd
56
1
Avaricia
3rd
2nd
2
Turbulence
16th
2nd
57
1
Winds of Change
4th
3rd
2
Oz
21st
5th
58
1
Holiday Resort
6th
9th
2
Origins (Requiem v2.0)
9th
5th
3
Inertia
4th
12th
59
1
Survival Games 4
21st
4th
2
Hokuna
6th
2nd
60
1
Mockingjay
6th
7th
2
Pompeii
20th
4th
61
1
Hamlyn
8th
15th
2
Survival Games Highway
3rd
4th
62
1
Skyward Crest
16th
22nd
2
Inertia
17th
7th
3
Turbulence
7th
2nd
63
1
Mockingjay
10th
8th
2
Drybone Valley
19th
23rd
64