Georgette

Characteristics

Race

Poodle

Gender

Female

Personal Status

Status

Alive

Relatives

Media

First Appearance

Poodle Beach (Ep.132)
Georgette is a Poodle owned by Stacy in Dogcraft. She was rescued during the first Dog Rescue Expedition. 
While riding Molasses, Stacy came across a beautiful beach with Poodles all around. Stacy explored around more, in case there were any Poodles in dangerous situtuations. Since she couldn't find any, she returned to the beach and adopted the one that looked cute. 
Georgette and Wink
Edit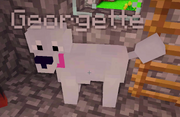 It has been hinted that Georgette likes Wink, most prominently during the Dogcraft mini. The episode shows the pawspective of Wink and Georgette heading over to Madeleine's Pawsteria. The two share a bowl of spaghetti and meatballs, with the episode concluding with Georgette kissing Wink under the table. 
The shipping of Wink and Georgette, most commonly refered to as "Winkette", is a popular ship in Dogcraft. In a Dogcraft Mini released on Valentine's Day, Georgette and Wink went on a date after Stacy went to bed. At Madeleine's Paswtaria, which had been completed the previous episode, which was released a day before the date. The episode ended with the dog's heads under their table on opposite sides, presuming that they were kissing. 
Another pet in The Cube was named Georgette. However, this animal was a cat, and it was spelled "Gorgette". 
Georgette is one of the pets featured in the Dogcraft Friends Poster.
Her name is a reference to a poodle, also named Georgette, from the Disney movie 'Oliver and Company'.
Ad blocker interference detected!
Wikia is a free-to-use site that makes money from advertising. We have a modified experience for viewers using ad blockers

Wikia is not accessible if you've made further modifications. Remove the custom ad blocker rule(s) and the page will load as expected.