Georgette

Characteristics

Race

Poodle

Gender

Female

Personal Status

Status

Alive

Relatives

Media

First Appearance

Poodle Beach (Ep.132)
Georgette is a Poodle owned by Stacy in Dogcraft. She was rescued during the first Dog Rescue Expedition. 
While riding Molasses, Stacy came across a beautiful beach with Poodles all around. Stacy explored around more, in case there were any Poodles in dangerous situtuations. Since she couldn't find any, she returned to the beach and adopted the one that looked cute. 
Georgette and Wink
Edit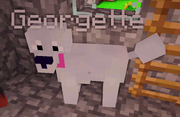 It has been hinted that Georgette likes Wink, most prominently during the Dogcraft mini. The episode shows the pawspective of Wink and Georgette heading over to Madeleine's Pawsteria. The two share a bowl of spaghetti and meatballs, with the episode concluding with Georgette kissing Wink under the table. 
Georgette Gets Festive
Edit
In "Festive Poodles", Stacy was chatting with Dog Guard when Sugar and Georgette walked up to Stacy, dyed red and green. Stacy, because they were being festive, decided to take the girls to the cabin. Georgette was red.
In epawsode 288, Stacy took all 15 Poodle Place residents to the Dog Wash 9000 for a bath. When they came out, all their color was gone, including Georgette's.
Going Green
Edit
In epawsode 305, Stacy was dying every Poodle cactus green for St. Pawtrick's. Georgette was one of them.
The shipping of Wink and Georgette, most commonly refered to as "Winkette", is a popular ship in Dogcraft. In a Dogcraft Mini released on Valentine's Day, Georgette and Wink went on a date after Stacy went to bed. At Madeleine's Pawsteria, which had been completed the previous episode, which was released a day before the date. The episode ended with the dog's heads under their table on opposite sides, presuming that they were kissing. 
Another pet in The Cube was named Georgette. However, this animal was a cat, and it was spelled "Gorgette". 
Georgette is one of the pets featured in the Dogcraft Friends Poster.
Her name is a reference to a poodle, also named Georgette, from the Disney movie 'Oliver and Company'.
Georgette had a white coat before Stacy dyed it light gray.
Her coat was also red and green for a brief time.
Georgette has been in many buildings, including the Quonset, the Pawblic Library, the Spaw (doing downward dog) and currently in the Poodle Place.