Bone Appetit

Episode 15

Information

Post Date

May 29, 2014

Duration

27:54

Episode Guide
"
Bone Appetit"
is the fifteenth episode of 
Dogcraft
, and it was uploaded on May 29th, 2014. 
Overview
Edit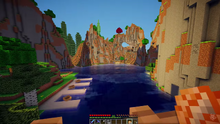 Stacy begins the episode by continuing to tease about what she is hoping to build on the mountain in front of her balcony. She then moves to the Dalmatian Plantation and names a new Puppy called 'Daisy'.
Stacy then takes a boat from her dock and begins shovelling dirt to make a different path for easy access to her farm, Wink then broke her boat after getting in the way. Stacy then travels to the mountain and starts shovelling dirt without revealing her plans. Once Stacy heads back to the balcony she anounces she will try and make a dog bone in the mountain. Stacy also shares her plans on making the pond next to her house into a bone.
Stacy spends the night killing Spiders, Skeletons and Creepers for the needed items to make a training bone, Stacy makes four and gives them all to Wink. Stacy gave Wink the 'Wolf Mount', 'Guard Dog', 'Hell Hound' and 'Creeper Sweeper' dog talents. After testing out Wink's new talents on Mobs and Pigs, Stacy ends the episode on the balcony, showing her disapproval of Wink's lack of help when against mobs.
This is the final episode in the series to feature the traditional thumbnail of Stacy being with her dogs.
This episode did not feature fan art at the art wall. 
Ad blocker interference detected!
Wikia is a free-to-use site that makes money from advertising. We have a modified experience for viewers using ad blockers

Wikia is not accessible if you've made further modifications. Remove the custom ad blocker rule(s) and the page will load as expected.