Basil's Barkery

Statistics

Name

Basil's Barkery

Formerly Called

The Barkery

Type

Bakery

Completion Episode

Basil's Barkery - EP 63

Status

Active

Employee(s)

Appearance

First Appearance

The Barkery - EP. 48
Basil's Barkery
, also known as
The Barkery
, is a build in the
Dogcraft
series, used primarily as
Stacy's
supplier of dog biscuits. The Barkery began construction in
episode 48
, and was completed in
episode 63
, after Stacy's wolf Basil took ownership of the build.
The Barkery is currently run by Madeleine, her brother Henri, and french bulldog Croissant.
Following Stacy's desire to further level up her wolves, Stacy needed better access to dog biscuits, so began construction of a Barkery in episode 48. The primary materials used included black and white wool for the floors, stone slabs for the roof and sakura logs as the walls. The inside of the Barkery featured multiple chests to store the various biscuits available, and furnaces were used as a counter. The counter was later replaced by a baking table from Decocraft.
Completion
Edit
While searching for Basil, Stacy noticed changes of the Barkery (a new sign in particular), and found Basil sitting with a then unknown Madeleine, and Stacy's french bulldog Croissant. Stacy then discovered Basil had stocked up the Barkery with supplies, and took ownership of the build (which Stacy was completely happy with). She was also happy Croissant had a new owner.
Stacy has since been a regular customer of the Barkery, though has had a frosty relationship with Madeleine in the past. Since Madeleine's completion of the 'Pawsteria', the Barkery has seemingly been neglected by Madeleine and Croissant, Stacy has intentions of having a talk with Madeleine regarding the state of the barkery. However, the Barkery has been recently put back to use, and has a new countertop.
Employee(s)
Edit
Main Article: Madeleine and Croissant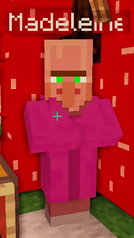 Madeleine
Edit
Madeleine is a french villager who is currently running 'Basil's Barkery', Madeleine is usually seen as very grumpy, snarky, and over the top in the series, but has her kind moments. 
Madeliene has played a major part in the Dogcraft series, creating several monetary dilemmas for Stacy. Most notably the gold Stacy owed Madeleine, when being unable to pay for her dog biscuits.
Croissant
Edit

Croissant is a pet French Bulldog who is currently the assistant of Madeleine. He has a good working relationship with Madeleine.
Henri is Madeleine's brother who moved from France. He assists in the Barkery, and got caught by Stacy in the Spaw with other dogs, having a amazing time in the hot tub.
As a Halloween occasion, Madeleine redecorated her store, giving the Barkery an orange and black color scheme, which sold limited-edition Pumpkin Spice flavored items.
She also had Gluten-Free Bread for some period of time.
The pumpkin items are: Pumpkin Latte, Pumpkin Bread, Pumpkin Bone and Pumpkin Fish.