Asparagus
Nickname(s)

Gus

Characteristics

Race

Zombie Horse

Gender

Male

Personal Status

Status

Undead

Media

First Appearance

Asparagus (EP.102)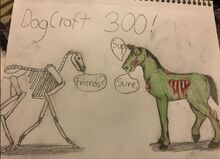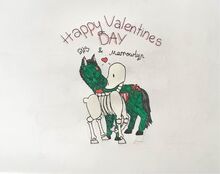 Asparagus, Gus for short, is a Zombie Horse owned by Stacy in Dogcraft.
Asparagus randomly spawned in Stacy's Quonset, where Joey, the donkey, and Cinnamon Toast, the horse, were already living. Stacy had no idea how it got there, but wanted to name tag it to prevent it from despawning. She named it Asparagus due to the green coloring of the animal.
After uninstalling the Mo' Creatures Mod, Asparagus was erased from the world of Dogcraft. Stacy announced this to the fans, and added Asparagus to the Cemetery.
Asparagus was magically revived many episodes later. While healing a Zombie Villager named Gus, Asparagus rose from the dead. During this off-screen process, the villager was renamed to Butch, as Asparagus thought that Dogcraft was only big enough for one Gus. 
When Stacy brought Marrowlyn to the Mini Mesa, Stacy saw Asparagus and Marrowlyn together and she shipped it. Asparowlyn? or Marragus?
Current Location
Edit
Asparagus formerly lived in the Mini Mesa with his equine friends until Marrowlyn appeared in Epawsode 300. That gave Stacy the idea that the two needed to live somewhere else, since they were special and quickly falling in love. Stacy later showcased where they would live- on top of the Yoga Studio. Construction started in "The Mouse Kitten", but Stacy had to stop due to a kitten Ezra had found.
Finally, in "Day of the Undead Horse", Stacy completed their house. It mostly resembled Mexican tradition. It also referenced "Coco", a Disney movie. Asparagus and Marrowlyn seem as though they like it. In the thumbnail, they are seen kissing.
However, there are some flaws:
Stacy can't ride them up vines
You can't lead Undead Horses
Stacy didnt make the tunnels high enough
Asparagus is one of three characters to have been revived. The others are Not Pillow and Noel.
Asparagus was the first undead horse in Dogcraft.