Aphmau
Name

Jessica

Nickname(s)

General

Gender

Female

YouTube

Channel
Date Joined

August 13th, 2012

Status

Active

Social Media

Twitter
Facebook
Aphmau, real name 'Jess' is a female Minecraft player and map creator who has accompanied Stacy in several episodes of multiple series.
Collabs With Stacy
Edit
Mineclash
Edit
Main Article: Mineclash
The first video to feature booth Aphmau and Stacy was during episode 35 of Mineclash, celebrating Graser's 100th episode of his Survival Challenges. Stacy and Aphmau were teamed together and needed to fill two double chests of different items to win the challenge. The two got along very well and began a small friendship.
Hide' N' Seek
Edit
Stacy has since played Hide' N' Seek maps created by Aphmau, th first map was inspired by the movie Despicable Me and had the 'Seeker' as a Minion. When tagging a 'Hider', they would also become a Minion. Aphmau and Stacy were also playing with LDShadowLady and Yammy.
The second Map was inspired by a Park and builds relating to Dogs (which Stacy loved), instead of minions, dogs were the new form of 'Seekers'. The episode featured Aphmau, Stacy, Lizzie and Cupquake.
Aphmau's Channel
Edit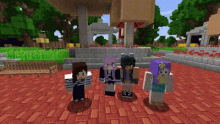 Jess currently has two channels, the most popular is her gaming channel which is Minecraft oriented, the channel has over 3,200,000 subscribers.
Her second channel, called 'Aphmau Vlogging' has over 392,000 subscribers and is more focused on Jess' life outside of gaming.
Aphmau is rumored to be taking part in the UHShe series.
References
Edit